We have a whole range of packages to suit your needs.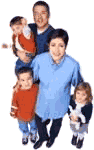 Hardware: To use ADSL Broadband you must have an ADSL modem or router and a micro-filter needs to be put on each phone socket.
Activation fee: A BT activation fee is charged to convert your voice line into a broadband line for the first time.
Migration: If you already have an ADSL line you can now obtain a MAC code from your current ISP, allowing you to move to us without loss of service!

"We don't have a Credit Card or Debit Card; how do we signup?"
Simply contact our sales team (see menu above) and they explain what other options we have.
Use the menu above to sign up, which will check your number for availability…